Community Solar
Become involved in solar energy without the additional cost, construction, insurance and maintenance required with a privately-owned solar array. 
Check and see what the array is currently producing – 
Subscriptions Are Available
With the community solar project, RVEC member-owners have the opportunity to purchase subscriptions to the energy output.  In return for their investment, member-owners will receive a monthly bill credit for their share of the energy produced. This means they have the benefits of affordable, renewable energy without the worries of construction, insurance and maintenance.  
How the Program Works
RVEC member-owners subscribe to the amount of production that fits their energy goals and budget.
Subscribers receive a monthly credit that is applied to their electric bill that is equal to the percent of community solar production to which they subscribe.
There is no limit to the number of units a member-owner may subscribe to, but the excess credits are forfeited at the end of the year.  RVEC will assist member-owners in determining the appropriate number of units.
Subscriptions may be transferred with the RVEC service territory, assigned to another member, or sold back to RVEC upon approval of the Board.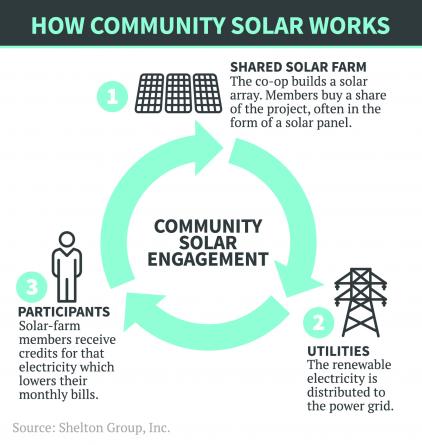 About the Program
Subscription Price: $700.00 per unit of production.
Subscription Contract: Each subscription is a 20 year program for a limited time on a first-come, first-served basis.
Module Info: 147 kW (ac) utility-scale solar array is comprised of 584 – 345 watt (DC) high quality modules.
Production:  Each unit is estimated to produce about 347 kilowatt hours annually.
Benefits of Community Solar
·Avoid future energy cost increases – if wholesale power rate go up, so does your credit
·Enjoy the benefits of solar without having it installed on your property
·No maintenance, insurance or repair responsibilities
·Purchase subscriptions to match your usage
·See real time energy production online
·Production credits appear on you monthly electrical bill
Who Can Participate
Any active RVEC member-owner is eligible.  Any non-member or member-owner can purchase and gift a subscription for another member of RVEC.
How Many Subscriptions Do I Need
Every member-owner of RVEC that has an active account is eligible to subscribe to at least one subscription.  Member-owners can subscribe to the output of as little as one module or modules – depending on your average monthly usage from the last 12 months.  Excess credit are forfeited at the end of the year. 
Get Started Today
Contact us at bradyb@rvec.coop or call 712.659.3649.